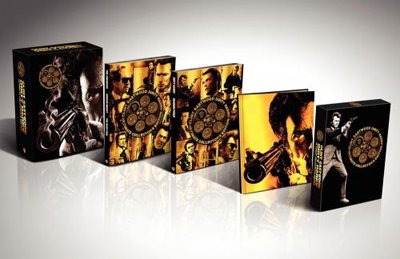 Listen up..punk. Feeling lucky are ya? Yeah? Good! Because Warners is bringing our favorite renegade cop to a complete box set on June 3rd, or if you prefer in separate editions as well. It will be in both standard DVD and Blu-ray, nice! So go ahead, make your day. Punk…
No pricing has been listed but here is the scoop on the features:
Dirty Harry Special Edition
(2-disc DVD and Single Disc Blu-ray ™ Hi-Def format)
Set in San Francisco in 1971, Dirty Harry is the gritty and suspenseful film that follows the story of Inspector Harry Callahan (Clint Eastwood), who earns the moniker 'Dirty Harry' for his reputation of handling the dirtiest homicidal cases. The City by the Bay faces the terror of a serial killer known as Scorpio (Andrew Robinson), who viciously snipes at innocent victims and demands ransom through notes left at the scene of the crime. Callahan is assigned to the case along with his newest partner, Inspector Chico Gonzalez (Reni Santoni) to track down Scorpio and stop him. Using humiliation along with cat and mouse type games against Callahan, Scorpio is put to the test by the cop with the very dirty attitude.
Special Features
* New Commentary by Richard Schickel — Filmmaker and Eastwood biographer Schickel examines the landmark film that revolutionized cinematic crime drama for all time.
* New Featurette The Long Shadow of Dirty Harry — An examination of the influence and legacy of Dirty Harry.
* Featurette Dirty Harry: The Original — Clint Eastwood and the film's creators look back at the birth of the modern action hero: Dirty Harry.
* Featurette Dirty Harry's Way — A promotional short on the movie Dirty Harry focusing on the toughness of the movies' main characters.
* Interview Gallery — Includes interviews with Patricia Clarkson, Joel Cox, Clint Eastwood, Hal Holbrook, Evan Kim, John Milius, Ted Post, Andy Robinson, Arnold Schwarzenegger and Robert Urich.
* 1993 TV Special Clint Eastwood: The Man from Malpaso — A look at the life and career of actor/director Clint Eastwood, including scenes from his past film and television work and interviews with friends, fellow actors and crew members who have worked with him over the years.
* Trailer Gallery — Dirty Harry, Magnum Force, The Enforcer, Sudden Impact and The Dead Pool
Magnum Force Deluxe Edition
Magnum Force, which was released in 1973 as a sequel to Dirty Harry has Eastwood reprise his famous role as Inspector Callahan, which has him face crooked cops and a traitorous boss as well as suffering re-assignment from homicide to stakeout duty after his handling of the Scorpio case. Callahan and his new
partner, Earlington "Early" Smith (Felton Perry), are called off a case in which a man acquitted of murder
is found dead along with his chauffer, lawyer and bodyguard. Soon after, a mafia figure, and several of his family and friends are also gunned down. Then, a well-known pimp is murdered too. Callahan and 'Early' are soon re-assigned to investigate the homicides.
Special Features
* New Commentary by writer John Milius — In this gritty, entertaining commentary, legendary Hollywood screenwriter Milius discusses Eastwood, the world of Dirty Harry and the rugged resilience of crime drama in American cinema.
* New Featurette A Moral Right: The Politics of Dirty Harry – Filmmakers, social scientists and authors take a provocative look at the moral, political and ethical themes of the Dirty Harry films.
* The Hero Cop: Yesterday and Today
* Trailer Gallery
The Enforcer Deluxe Edition
Released in 1976, The Enforcer marks the third installment in the Dirty Harry franchise. The film's plot has Inspector Callahan (Eastwood) paired with a new partner, policewoman, Inspector Kate Moore (Tyne Daly), as they hunt for a group of terrorists that are blackmailing the city of San Francisco for two million dollars. Callahan, none-too-pleased by being teamed up with a woman, must put his job first and the t