The Bugs Bunny/Looney Tunes Comedy Hour - Academy Award Animation Collection: 15 Winners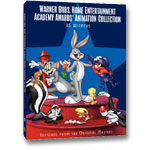 Release Information:
Studio: Warner Bros. Home Video
Release Type: Individual Episodes
Release Date: 2/12/2008
Number of Discs: 1
Number of Episodes: 15
Running Time: 125 mins
Retail Price: $19.98 (US$)
Audio/Video Information:
Video: Full Frame (1.33:1)
Audio: Unknown
Subtitles: None/Unknown
Description:
The Best of Warner Bros. Animation! 15 Academy Award Winning theatrical animated shorts. Franchises include Warner Bros., Hanna-Barbera and MGM. Features 15 award winning shorts, some of the most celebrated cartoons of their time!
1. The Milky Way (1940, MGM: three kittens find the Milky Way is made of milk)
2. Yankee Doodle Mouse (1943, MGM: Tom & Jerry fight World War 2 style)
3. Mouse Trouble (1944, MGM: Tom reads a book on how to catch mice)
4. Quiet Please (1945, MGM: Jerry threatens to wake up the dog, framing Tom)
5. The Cat Concerto (1947, MGM: Jerry taunts Tom while the cat gives a piano recital)
6. Tweetie Pie (1947, WB: The first pairing of Tweety and Sylvester [who's called Thomas])
7. The Little Orphan (1949, MGM: Nibbles visits Tom & Jerry for Thanksgiving)
8. For Scent-Imental Reasons (1949, WB: Pepe Le Pew in Paris perfume shop)
9. So Much For So Little (1949 WB: "Best Documentary, Short Subjects" about public health care)
10. Two Mouseketeers (1952, MGM: Mouseketeers Jerry and Nibbles fight guard Tom)
11. Johann Mouse (1953, MGM: Tom is Johann Strauss' cat, chasing a waltzing Jerry)
12. Speedy Gonzales (1955, WB: Speedy's 2nd short, meeting Sylvester for the first time)
13. Birds Anonymous (1957, WB: Sylvester fights his addiction to birds like Tweety)
14. Knighty-Knight Bugs (1958, WB: Bugs Bunny vs. Sam the Black Knight in King Arthur's court)
15. The Dot And The Line (1965, MGM: Chuck Jones' short about a forbidden romance)
This information is not complete and will be completed when the information or time becomes available
Features:
* 5 shorts with Expert Commentary
* 2 shorts with a Music-Only audio track
http://www.tvshowsondvd.com/releases...e-Release/7294