08-27-2008, 07:10 AM
Site Staff – Forum Moderator

Location: The Smurfs Village
Stats: 9,752 posts since May 2005
Status: Moderator

Thanks: 128 times in 113 posts
Looks interesting.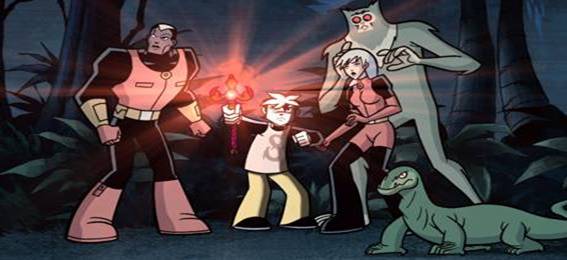 Quote:
quote:In the new animated, comedy-action series created by Jay Stephens, Doc, Drew and Zak Saturday are a family of world-saving adventure scientists called The Secret Saturdays. They live in a hidden base and are part of a network of scientists who protect against all the underlying evil in the world. To the Saturdays, ordinary folk-tales aren't just legends, but real-life mysteries and adventures.

Traveling from the Gobi Desert to the Marianas Trench, the Saturdays explore ancient temples and bottomless caves and tangle with twisted villains, like madman V.V. Argost who hides his evil plans under the ruse of his popular television show Weird World. The Saturdays' adventures also allow them to scour the globe in search of cryptids, mysterious creatures that live undercover all over the world. But it's not always about protecting the cryptids. Sometimes Doc, Drew and Zak must protect the world from a few of the more dangerous creatures.

The Saturdays may be the last name in adventure and discovery, but at the end of the day, along with their hyper exotic pets Fiskerton, Komodo and Zon, they are just a loving bunch, trying to work through everyday family matters and squabbles.

Twenty-six episodes of The Secret Saturdays are currently in production at Porchlight Entertainment in Los Angeles, Calif. The series is from creator Jay Stephens and producer Fred Schaefer and is slated to premiere this fall on Cartoon Network.

Cartoon Network (CartoonNetwork.com), currently seen in more than 91 million U.S. homes and 160 countries around the world, is Turner Broadcasting System, Inc.'s ad-supported cable service offering the best in original, acquired and classic animated entertainment for kids and families. Overnight from 11 p.m. to 6 a.m. Monday through Saturday and 10 p.m. to 6 a.m. Sunday (ET, PT), Cartoon Network shares its channel space with Adult Swim, a late-night destination showcasing original and acquired animation for young adults 18-34.

Turner Broadcasting System, Inc., a Time Warner company, creates and programs branded news, entertainment, animation and young adult media environments on television and other platforms for consumers around the world.