| | |
| --- | --- |
| Saturday Morning Cartoons - 1960's & 70's Volume 2 | |
07-08-2009, 05:43 AM
Verified Member

Location: United Kingdom.
Stats: 683 posts since Apr 2007
Status: Verified Member

Thanks: 9 times in 9 posts
from tvshowsondvd.com
Quote:
These collections of some of your favorite Saturday morning cartoons of the 1960's and 1970's will take you back to those early Saturday mornings sitting in front of the T.V., cereal in hand and clad in pajamas/ Relive those great moments with these fantastic new collections!Following up on the late May releases of the two Volume 1 sets, Warner Home Video has announced that another pair of collections are on the way for release this October 27th. According to the early box art (bottom), both Saturday Morning Cartoons - 1960's Volume 2 and Saturday Morning Cartoons - 1970's Volume 2 will each be a 2-disc set with 12 shows, but the provided content lists (also below) show 13 and 14, respectively. List price is set at $26.99 SRP each.


Video is in full frame, audio in English ("stereo", it says, even though all of these were produced for mono). English subtitles will be present, and the running time is 277 minutes on 1960's Volume 2 and 352 minutes on 1970's Volume 2. Each release comes with bonus content that includes Audio Commentary and a Featurette; a communication to retailers explains the extras this way: "Don't Touch That Dial - Loaded with New Bonus Content, Including: Saturday Morning Previews on Each Collection Highlighting Fan Favorites Such as The Magilla Gorilla Show, Shazzan and Much More!"

There's an online trailer to see for an advance look at some short clips. We've got the list of contents for you right below, followed by an early look (not finalized) at the package art:


Saturday Morning Cartoons - 1960's Volume 2:

- Cypher in Dimension Zero: Attack from Out of Space/Rhom, Super Criminal/The Eye of Ramapoor
- Peter Potamus: Fe Fi Fo Fun
- Flintstones: The Flintstones Flyer
- The Porky Pig Show: Scaredy Cat/Baton Bunny/Feather Dusted
- Frankenstein Jr. & The Impossibles: The Shocking Electric Monster/The Bubbler
- Adventures of Aquaman: Menace of the Blanc Manta/The Rampaging Reptile-Men/The Return of Nepto
- Herculoid: The Beaked People/The Raider Apes
- Space Ghost/Dino Boy: The Heat Thing/The Worm People/Zorak
- Superman: The Force Phantom
- The Jetsons: A Date with Jet Screamer
- The Road Runner Show: Beep Beep/Satan's Waitin/Chili con Carne
- Magilla Gorilla: Gridiron Gorilla
- Tom & Jerry Show: No Bones About It/An Ill Wind/Beach Bully


Saturday Morning Cartoons - 1970's Volume 2:

- Yogi's Gang: The Greedy Genie
- The Bugs Bunny Show: Whoa Begone/To Itch His Own/Gee Whiz-z-z
- Hong Kong Phooey: Cat Theives/Zoo Story
- Pebbles and Bamm Bamm: Gridiron Girl Trouble
- Scooby Doo: What a Night for a Knight
- Shazzan!: The Living Island
- The Jetsons: Jetson's Night Out
- The Bugs Bunny Road Runner Hour: Snow Business/Two Crows from Tacos/Ready, Set, Zoom!
- Dastardly & Muttley: Stop that Pigeon
- Wacky Races: See-Saw to Arkansas/Creepy Trip to Lemon Twist
- Banana Splits: Joining the Knights/The Littlest Musketeer/"Danger Island" Episodes 1 & 2
- The Flintstones: No Biz like Show Biz
- Penelope Pitstop: The Diabolical Department Store Danger
- The New Adventures of Superman: Mermen of Emor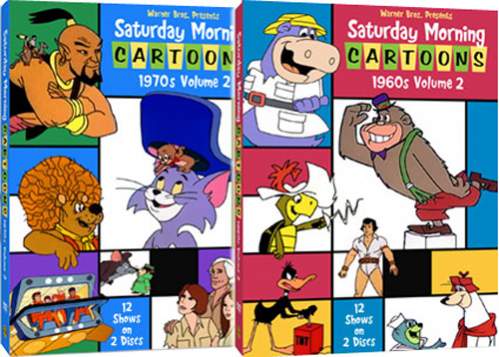 source: http://www.tvshowsondvd.com/news/Sit...ons_Vol2/12260
Great collection, fingers crossed The Banana Splits will be a restored 1hr uncut episode verison

08-17-2009, 02:14 PM
Verified Member

Location: United Kingdom.
Stats: 683 posts since Apr 2007
Status: Verified Member

Thanks: 9 times in 9 posts
from tvshowsondvd.com
Quote:
Earlier this month we reported on Warner Home Video's announcement for Saturday Morning Cartoons - 1960's Volume 2 and Saturday Morning Cartoons - 1970's Volume 2. Both 2-DVD sets are due to be released on October 27th, at $26.99 SRP each.

When we first posted that report, using the info originally supplied by Warner, we immediately began receiving complaints from our readers that the supplied episode lists for each title must not be correct. Three reasons were given to us by fans for that belief: 1) some material shown on the lists were duplicates of cartoons found on last May's Volume 1 releases; 2) some characters shown on the box art of the Volume 2 releases was not represented in the supplied list of episodes, and 3) some clips seen in the online trailer we linked to also had not been represented in the list of material.

So we've followed up with the studio, asking for the "final" list of the contents for these upcoming Volume 2 sets. The following are the brand-new lists they have sent us, and we notice that there are a number of drastic changes! We haven't done an in-depth analysis of the new lists, but we're posting this as-is right away so our readers know that we've been on the ball about this issue. Hopefully fans will find this update to be better than the previous info:

Saturday Morning Cartoons - 1960's Volume 2
Disc 1
- Quick Draw McGraw: Mine Your Manners/Vacation Tripped/Person To Prison
- Space Kidettes/Young Samson & Goliath: Show # 5 - Space Heroes / The SSX-19
- Bugs Bunny Show: #23 - Big House Bunny/Canned Feud/Home Tweet Home
- The Porky Pig Show: #3 - Scaredy Cat/Baton Bunny/Feather Dusted
- Adventures of Young Gulliver: Dangerous Journey
- The Wally Gator Show (with Lippy the Lion and Touche Turtle): Droopy Dragon/Whale of a Tale/Sea-Saw
- The Jetsons: Elroy's Mob

Disc 2
- Quick Draw McGraw: The Mark of El Kabong/Party Pooper Pop/Chily Chiller
- Peter Potamus Show (with Breezly and Sneezly and Yippie, Yappie, Yahooey): Wagon Train Strain / Missle Fizzle / Black Bart
- The Road Runner Show: #1 - Zip and Snort/The Jet Cage/The Wild Chase
- Atom Ant Show (with Precious Pupp and Hillbilly Bears): Atom Ant Meets Karate Ant / Bowling Pinned / Picnic Panicked
- Tom & Jerry Show (MGM-TV): Saltwater Tabby/Mutts About Racing/Just Ducky
- Magilla Gorilla / Punkin Puss / Ricochet Rabbit: Show #3 - Private Magilla / Army Nervy Game / TV Show

Saturday Morning Cartoons - 1970's Volume 2
Disc 1
- Help! It's the Hair Bear Bunch: Keep Your Keeper
- New Adventures of Gilligan: Off Limits
- Sea Lab 2020: Deep Threat
- Amazing Chan and the Chan Clan: The Mardi Gras Caper (Episode 12)
- Shazzan: The Living Island / Master of the Thieves
- Yogi's Gang: Mr. Bigot

Disc 2
- Bugs Bunny/Road Runner Hour: For Scent-Imental Reasons/Stop, Look and Hasten, Hare-Way to the Stars/Duck! Rabbit, Duck!
- Valley of the Dinosaurs: Forbidden Fruit
- Tom and Jerry/Grape Ape (HB): Show #1 - No Way Stowaway / That Was No Idol, That Was My Ape / The Ski Bunny / The All American Ape / Stay Awake Or Else
- Banana Splits Adventure Hour: Joning the Knights/The littlest Musketeer/"Danger Island"
- Inch High Private Eye: Diamonds are a Crook's Best Friend
- New Adventures of Batman and Robin: Sweet Joke on Gotham City

Note that the package art shown below is not final, and may be subject to change:
Quite a change - but it's still sounds sweet!