as read in POP news! 2-10-10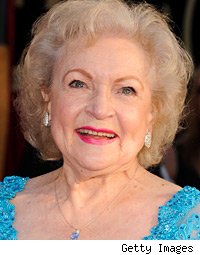 Betty White has done many things in her nearly 70-year career in entertainment. The 'Golden Girl' has won six Emmys, appeared in countless television shows and movies and recently got big laughs in a high-profile Snickers commercial that aired during the Super Bowl.
There is, however, one thing the TV legend hasn't done, and some of her biggest fans are ready to take action. In what may come as a suprise to many, Betty White has never hosted 'Saturday Night Live.'
But that could change if a devoted group of Facebook fans get their way. They've started a group called "
Betty White to Host SNL (please?)!
" And they've already recruited over 129,000 people to the cause.
In a letter to 'SNL' creator Lorne Michaels, David Matthews, the page's creator, said "What would it take to get you to invite Betty White to be a guest host on 'SNL'? She is brilliant, funny, witty and a comedic genius and legend. I have little doubt that it would be a ratings hit."
<script> digg_url = 'http://www.popeater.com/2010/02/10/facebook-group-pushes-for-betty-white-to-host-snl/'; </script> <script src="http://digg.com/api/diggthis.js"></script>
The 88-year-old star has been on a career high recently, appearing in the hit film 'The Proposal' opposite Sandra Bullock, who presented White with the Life Achievement Award from the Screen Actors Guild at last month's start-studded ceremony.
"Isn't it beautiful how far a girl as plain as she is can go?" White joked of Bullock, who recently earned her first Oscar nomination for 'The Blind Side.'
While fans eagerly await word on whether their Facebook ruse works, they can plan on checking out their recently ubiquitous idol this fall when she hits the big screen with Kristen Bell and Sigourney Weaver (who recently hosted 'SNL' herself while promoting 'Avatar') in the comedy 'You Again.'